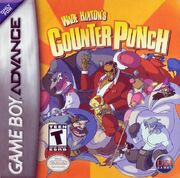 Wade Hixton's Counter Punch is a boxing game for the GBA that plays like Punch-Out!!. It was released in North America and Europe in 2004. It was developed by Destination Software, and published by Inferno Games(NA) and Zoo Publishing(EU). Before release, the game was known as Sadistic Boxing and Sucker Punch. Also, on certain online game websites, there are demo versions of this game called Wade Hixton's Counter Punch: Mini-Game.
Rocco McScrub
Sweetness
Jobu
Gus Incubus
Mimi Li
Evil Wade
Killa Gorilla
Don
This game plays similarly to the Punch-Out!! games, the only noteworthy differences being that the player can purchase special techniques using money won from the fights, and hire someone to help in the fights.
Reception
Edit
The game was mostly well received. It was nominated "GBA Game of the Month" by Gamespot, and it has a score of 78 at Metacritic.
Official Site
Edit