Texas Mac


Statistics
Nickname(s)

Stud-Horse

Nationality
American
First appearance
Arm Wrestling (1985)
Boxing record
Texas Mac only appears in Arm Wrestling, and is the first opponent the player wrestles. He has the same body type as Mask X (Bald Bull).
Arm Wrestling
Edit
Texas Mac is the first and easiest opponent the player wrestles. The game provides instructions in this first match, showing you exactly how to defeat him. You are even given the opportunity to play again if you lose the first time. When Texas Mac is defeated, his hat flies off revealing his bald head.
This article or section is a Stub.

You can help Punch-Out!! Wiki by contributing to it.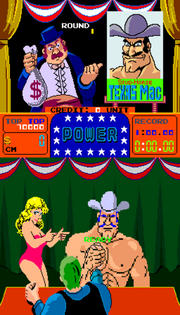 Ad blocker interference detected!
Wikia is a free-to-use site that makes money from advertising. We have a modified experience for viewers using ad blockers

Wikia is not accessible if you've made further modifications. Remove the custom ad blocker rule(s) and the page will load as expected.