Rick Bruiser


Statistics
Rated at
210 lbs. (95 kg)
Age
??
Stance
Southpaw
First appearance
Super Punch-Out!! (February 1994)
Boxing record
Rank
#1 Special Circuit
Total fights
42
Wins
41
Losses
1
Rick Bruiser
 is the secondary antagonist in the SNES version of
Super Punch-Out!!
as the third boxer in the Special Circuit. He is the twin Bruiser brother, as he's possibly in his early 20's but no less monstrous in appearance. His only loss came at the hands of his twin brother, Nick Bruiser, in which both brothers were made to fight as there can only be one champion. The game guide stated that for this one defeat he is very ashamed and will take out his aggression on any contenders that cross his path, contrasting with the good-natured persona he shows in the game.
Appearances
Edit
Super Punch-Out!! (1994)Edit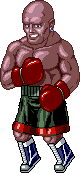 In the SNES version of Super Punch-Out!!, he usually tries to counter-punch and sometimes jumps in the air while throwing a powerful punch. This attack is called 'The Rumbler Blow' which he jumps to the center of the ring, then he jumps and shakes the ring where the player can't move, then he throws a uppercut that will instantly knock down the player. He is nearly identical to his older brother, Nick, with the exception that he is slightly more pale, talks a lot more, and is slightly less difficult. He also smiles and wears an earring. He's one of the strongest opponents in the game and has very high defense. 
"My brother may be Champ, but only 'cause I let him win. Really I am the best!" (first match)
"Having a rough day, buddy? I'll tell my brother that you said "Hi."" (rematch)
"I'm OK, but Nick is just sick about his loss." (endgame)
"Eegh!" (when hit with a KO Punch)
"Yargh!" (when knocked down)
Ad blocker interference detected!
Wikia is a free-to-use site that makes money from advertising. We have a modified experience for viewers using ad blockers

Wikia is not accessible if you've made further modifications. Remove the custom ad blocker rule(s) and the page will load as expected.