This article is a quality article.
Punch-Out!! (パンチアウト!!, Panchi-Auto!!?) is the title of the most recent game in the Punch-Out!! series. It was developed by Canadian game developer Next Level Games, released on the Wii and published by Nintendo. It was first revealed at Nintendo's conference on October 2, 2008. It was released on May 18, 2009, but was released on May 16th at the Nintendo World Store launch party. In an interview on October 9, 2008, Charlie Scibetta, Senior Director of Corporate Communications for Nintendo of America, confirmed motion control will be used in this game. NES-style controls were also confirmed to be in the game.
Minor Circuit
Edit
Major Circuit
Edit
World Circuit
Edit
Title Defense
Edit
Once Mac becomes the champion, it's up to him to defend his title. All of the boxers he fought before will now challenge him for the title, with new moves and tricks, and are much harder to defeat. The "circuits" are split into World B, World A, and World S, containing the boxers from the Minor, Major, and World Circuits, respectively.
Last Stand
Edit
Mac's Last Stand is the "epilogue" of the game, simply put. After beating TD Mr. Sandman, Little Mac decides to retire with a bang: fight every boxer he has ever faced in random, repeating order until he loses three times. It is likely that you will encounter Donkey Kong in this mode. If you lose 3 matches, Little Mac will lose his champion belt and retire. The game must then be started all over from the beginning. If you manage to fight 10 opponents without losing, you unlock a toggled Exhibition setting called Champions Mode. In this mode, the red flashes a character makes when he is about to attack and the yellow flashes he makes when a star punch is available are gone, and any hit from an opponent is an Instant Knockdown.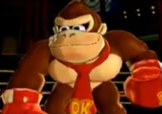 Other characters
Edit
This is so far the only game to have most foreign characters speak different languages besides English.
This is the first game in the Punch-Out!! series in 15 years,when Super Punch-Out!! was released.
Princess Peach from the Mario series was initially planned to be an opponent in this game, though she was scrapped due to the possible negative reception that could stem from having violence against women in the game.
External Links
Edit