Did you know...

Add some trivia

... that there is a possibly intended pun in relation to the boxers in different games? "Mr. Sandman;... Give me your dreams..." could have made the relation between Mr. Sandman and Mr. Dream.
... that even if the opponents attack sequences seem to be random, they actually follow sequences with well-defined rules?
... that in Title Defense on Punch-Out!! (Wii), Bear Hugger and Von Kaiser will always be knocked-down when you unleash a 3-Star Uppercut while either is stunned?
... that the boxing rings in Punch-Out!! (NES) change colors depending on the circut (Minor is a dark blue, Major is green, World is a light blue, and the Dream Fight is light green)?
... that while Little Mac has been shown training with Doc Louis in several Punch-Out!! cinematics, Doc Louis's Punch-Out!! will be the first time that players will be able to actually play against Louis?
... that there are three different versions of the NES installment? The first was pressed as a gold cartridge titled Punch-Out!!, and was a prize for winners of the 1987 Nintendo Famicom Golf Tournament U.S. Course. The second was a worldwide reissue under the name Mike Tyson's Punch-Out!!, and added one new opponent, Mike Tyson. The third and current version of the game released in August 1990 is Punch-Out!! featuring Mr. Dream, which replaces Tyson's character with the fictional Mr. Dream.
...that the voice actor for Bear Hugger on the Wii version of Punch-Out!! also voiced M. Bison on the Street Fighter cartoon?
...that on the fastest times on Nick Bruiser, Glass Joe is at 8th place?
...that in Punch-Out!! Wii, there are nine infinites? Von Kaiser, Don Flamenco, Super Macho Man, Mr. Sandman, Title Defense Glass Joe, Title Defense Von Kaiser, Title Defense Disco Kid, Title Defense King Hippo, and Title Defense Don Flamenco all fit the category.

...there is a connection between Kid Quick (from the original 1984 arcade game) and Disco Kid (from the 2009 Wii video game)? Both weigh 210 pounds, and are from Brooklyn, New York.
What is Punch-Out!! Wiki?
The purpose of Punch-Out!! Wiki is to become a reliable, insightful source into the universe of the Punch-Out!! video game series, which spans three console titles and three arcade games. This includes chronicling installments of the series, plot, characters, locations, merchandise and more.
Other areas of Punch-Out!! Wiki
In the news
Add some news
On January 14, 2015, Punch-Out!! was revealed to be downloadable on the Wii U eShop on January 22.
On February 13, 2014, Little Mac was confirmed to be playable in Super Smash Bros. for Nintendo 3DS and Wii U.
On January 10, 2013, Punch Out!! Featuring Mr. Dream was made available for download to 3DS systems via Club Nintendo for 200 coins until February 10, 2013.
On March 8, 2012, Punch Out!! Featuring Mr. Dream was released for the Nintendo 3DS Virtual Console
On August 28, 2011, Punch-Out!! for the Wii was rereleased by Nintendo as a Nintendo Selects game.
On October 27, 2009, the WiiWare title Doc Louis's Punch-Out!! (pictured) was released and sent to Club Nintendo members who reached Platinum status before the website's deadline.
On July 14, 2009, the WiiWare title Doc Louis's Punch-Out!! was announced as an upcoming reward for Club Nintendo members who reached Platinum status on the website by June 30.
On May 18, 2009, Punch-Out!! was released in North America. Within the following week, it was also issued in Europe.

On May 16, 2009, Punch-Out!! was released exclusively at the Nintendo World Store in New York City, two days before official retail release.
On March 20, 2009, Super Punch-Out!! was reissued through the Wii Shop Channel for the Virtual Console in Europe. Ten days later, the game was made available in North America and Japan as well.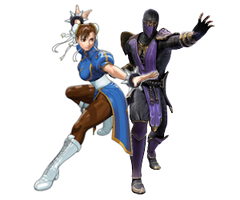 Fighting Games
Go to these sites for info or for help with your own wiki!
Bloody Roar • Capcom • Darkstalkers • Guilty Gear • Injustice: Gods Among Us • Killer Instinct • Mortal Kombat • M.U.G.E.N • Punch-Out! • Skullgirls • Smash Supreme • SNK • Soulcalibur • Street Fighter • Super Smash Bros. • Tekken • Virtua Fighter
Want your community included? See how!

Ad blocker interference detected!
Wikia is a free-to-use site that makes money from advertising. We have a modified experience for viewers using ad blockers

Wikia is not accessible if you've made further modifications. Remove the custom ad blocker rule(s) and the page will load as expected.