Masked Muscle


Statistics
Rated at
240 lbs. (109 kg)
Nationality
Mexican
Age
29
From
Mexico City, Mexico
Stance
Orthodox
First appearance
Super Punch-Out!! (February 1994)
Boxing record
Rank
#1 Major Circuit
Total fights
24
Wins
19
Losses
5
Masked Muscle made his only appearance in the SNES version of Super Punch-Out!! as the third boxer in the Major Circuit. He appears to be a luchador as well as a boxer.
Appearances
Edit
Super Punch-Out!! (1994)Edit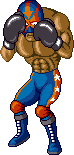 In the SNES version of Super Punch-Out!!, he cheats by spitting in the eyes of his opponent to blind him for a short time but the attack is fairly easy to avoid (see his cornerman say "Spit in his eyes") and opens him for attack. He also headbutts his opponent with a great deal of force (also cheating), which can be countered by a jab for an instant knockdown. He shouts "Adios!" when he wins by KO. If you run out of time, he will spit twice at your direction. His sprite is an edit of Super Macho Man.
"You should give up now señor." (first match)
"Cheater? I don't know what you're talking about, amigo." (rematch)
"Have your bruises healed yet Amigo?" (endgame)
"Adiós!" (Victory)
"Spit in his eye!" (Masked Muscle's cornerman telling him to spit in your boxer's eyes, which blinds you for a while).
Ad blocker interference detected!
Wikia is a free-to-use site that makes money from advertising. We have a modified experience for viewers using ad blockers

Wikia is not accessible if you've made further modifications. Remove the custom ad blocker rule(s) and the page will load as expected.