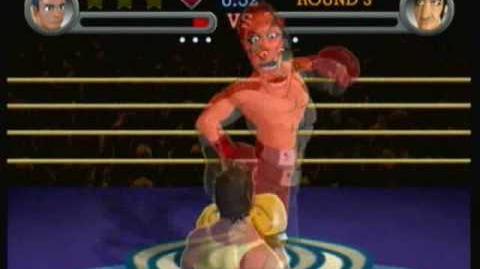 If the player (Little Mac) in Punch-Out!! (Wii) is knocked down enough times, or is about to receive a TKO, they can use this trick to give them one final chance to finish the fight.
When the game shows Little Mac's KO scene, press the 1 and 2 buttons together as soon as it starts. This will cause Mac to stamp his foot on the ground and gain one final burst of energy, letting him continue the fight and deny the KO.
The trick can be used at least once per fight. This can not be used on normal knockdowns; it can only be used during Mac's KO animation.
It should be noted however, that whether or not it will work is completely random, even when executed properly by the player.
Ad blocker interference detected!
Wikia is a free-to-use site that makes money from advertising. We have a modified experience for viewers using ad blockers

Wikia is not accessible if you've made further modifications. Remove the custom ad blocker rule(s) and the page will load as expected.