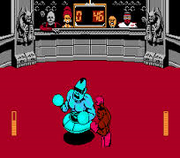 Fly-Mo is the last opponent in Power Punch 2. He is extremely hard and fast, throwing a fast line of uppercuts and jabs.
Personality
Edit
He seems to be a bit of a show-off, like most of the opponents in the game.
Appearance
Edit
Fly-Mo is a blue alien with visor-like sunglasses. He has no legs but instead hovers on something that looks a lot like a UFO. He also appears to have a Mohawk.
Once Fly-Mo knocks you out, He takes off his shades, smiles, and winks at you.
This article or section is a Stub.

You can help Punch-Out!! Wiki by contributing to it.