Challenger


Statistics
Nationality
American
First appearance
Punch-Out!! (1984)
Boxing record
The player's character in both arcade Punch-Out!! and Super Punch-Out!! is named by the player (to a maximum of 3 initials). As this character, you battle several opponents to become the WVBA champion. This green-haired character is noticeably different in appearance from Little Mac.
Based on appearances (primarily hair color), this character is possibly the same one used in Arm Wrestling.
Appearances
Edit
Punch-Out!! (1984)Edit
Super Punch-Out!! (1984)Edit
Arm Wrestling (1985)Edit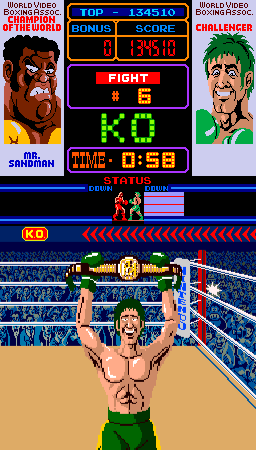 This article or section is a Stub.

You can help Punch-Out!! Wiki by contributing to it.
Ad blocker interference detected!
Wikia is a free-to-use site that makes money from advertising. We have a modified experience for viewers using ad blockers

Wikia is not accessible if you've made further modifications. Remove the custom ad blocker rule(s) and the page will load as expected.